FEATURE ARTICLE: Magic Mike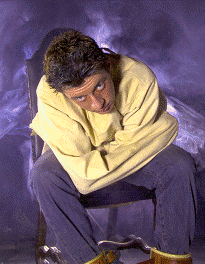 The Magic of Cleveland: Amazing: adj. (ah-may-zing).
1. Causing a state of extreme wonder or surprise.
2. Astonishing. Staggering. Mind-boggling. 3. Magic Mike
Magic Mike is amazing for lots of reasons.
It's not just because the 23-year-old can confidently and casually make all sorts of things disappear in front of drop-jawed onlookers. Or because he can remarkably transform live beautiful doves into live beautiful girls right in front of awestruck audiences at the sold out, standing-room-only magic shows he headlines. It's not just 'cuz he can easily escape from a straightjacket while surrounded by a crazed crowd of college springbreakers. It's not just because he can creatively configure (and then surreptitiously slay) balloon-bodied dragons at backyard brouhahas or because he always, literally, has something up his sleeve. It's more than all that. He's amazing not only because he can, in the blink of an eye, easily unshackle himself from a real motorcycle mysteriously chained & padlocked to his ankle at a shindig for sharp-suited movers and shakers, but also because he eats fire as matter-of-factly as a kid guzzlin' down his third slurpee on a sweltering summer afternoon. Magic Mike is amazing for all of this and more.
The charismatic, quick-witted, blue-eyed Magic Mike is amazing because Mike spends his days developing, learning, practicing, and mastering his craft and his evenings performing that gift. And what's pretty amazing about that ~ about being that disciplined, that dedicated, and that devoted to embracing, honing, and utilizing his talent, is that he's been that certain and that passionate about it since Christmas morning in 1985, when, at the age of five, he awoke to behold a way-cool magic kit under the Christmas tree. A gift from his maternal grandparents, this magic kit ~ replete with ring, vanishing, & card tricks ~ was Mike's boarding pass into a whole new way of traveling through life. Like a kid in a candy store, Mike could not get enough of this creative world that challenged his imagination, enhanced his thought process, and brought him to new depths of how the world, how others, perceive things. So throughout the years he went to lots of magic shows, met & studied the work of world-renowned magicians, steadfastly practiced & mastered both old and new tricks, and then created and developed his own amazing illusions incorporating his unique personality and techniques.
As a result, Magic Mike has been featured in many local & national zines, appeared on a variety of TV shows, and is highly sought after and booked on a regular basis for corporate celebrations, community events, private parties, and special guest appearances at local nightclubs, amusement parks, and popular eateries. His stage shows are a cool concoction of side splitting comedy and mind-blowing illusions, including his phenomenal Suspended Disbelief, Jigsaw-through-the-Neck, and Ultimate Escape Illusions. His walk-around magic (dis)appearances are filled with sleight of hand maneuvers, sideshow stunts, quick wit, and balloon-filled creatures ~ as can be experienced during Magic Mike's open-end engagements at Applebee's in Ridgepark Square every Sunday and Monday and at the Texas Roadhouse, also in Brooklyn, every Thursday night.
"Follow your heart, and the magic will happen," affirms Magic Mike. The amazing thing is, that's exactly what he did and now all his days are filled with magic.
Would you like a feature article written about you or your business? Contact us today! (216) 475-2963